Read the latest update from the Oregon Health Authority, outlining tips for staying safe as Oregon begins the reopening process.

https://content.govdelivery.com/accounts/ORDHS/bulletins/28fec28

To learn more about contact tracing, one of the key tools used to stop the spread of COVID-19, visit the links below for both English and Spanish materials.
https://govstatus.egov.com/OR-OHA-Colaborativo-de-Contacto (Español)
---
Congratulations to our OEA Program for its 5th Anniversary. Meet the team!
Felicidades a nuestro Programa OEA por su 5o Aniversario. Conoce al equipo!

Watch the video on our Facebook page (Facebook.com/PANOWPDX)
An important part of our mission is working to ensure everyone who qualifies is enrolled in and able to use their health insurance. In January of 2015, a pilot program was started to provide health insurance enrollment services and outreach to families qualified for Medicaid, or in Oregon, Oregon Health Plan (OHP).
The pilot eventually became Project Access NOW's Outreach, Enrollment, and Access program (OEA). The OEA team of certified application assisters helps families and individuals enroll in Oregon Health Plan and Health Insurance Marketplace plans via phone and online.
Find out more at: www.projectaccessnow.org/outreach-enrollment-and-access
Assistance is available in English, Spanish / Español, and Russian / русский
Call or Fax: 503-345-7031
Email: oea@projectaccessnow.org
---
Outreach, Enrollment & Access (OEA) Program brings Spanish-language access and information to the community.
Recently, Katia Ariceaga, OEA Program Manager joined a Facebook live session with the group Somos Tigard/ We are Tigard (on Facebook at @CityofTigard and @SomosTigard) to discuss health insurance access in Oregon. This virtual event represents an important component of the work of Project Access NOW. At PANOW, we advocate for access for the immigrant, refugee, and non-English-speaking community in Oregon. In fact, of the eleven OEA team members, eight were born outside the U.S.
Live assistance and information available in English, Spanish / Español, and Russian / русский. Contact us to get help from the OEA team:
Call or Fax: 503-345-7031
Email: oea@projectaccessnow.org
---
Latinx organizations urge for health and safety measures to protect essential workers.
The Oregon Latino Health Coalition, El Programa Hispano Católico, Familias en Acción, Latino Network, and Centro Cultural have teamed up to protect vulnerable members of the Latino community. The coronavirus pandemic has brought to light deplorable living and working conditions that seasonal and migrant farmworkers have to endure. The group is calling for state and local authorities, and agricultural business owners, to enact immediate health safety measures to protect these essential workers and their families. The organizations are working closely to ensure the Latino community is heard and that true, impactful investments in public health are made for ALL communities in the state.
Learn more about the work of these partners – and get involved – by visiting their websites linked below.
Oregon Latino Health Coalition, www.orlhc.org
El Programa Hispano Católico, www.elprograma.org
Familias en Acción, www.familiasenaccion.org
Latino Network, www.latnet.org
Centro Cultural, www.centrocultural.org
---
Seeking participant stories – tell your Project Access NOW story.
We need your help to reach more in our community. If you have received services from Project Access NOW – and feel comfortable sharing how the organization positively impacted your life – please reach out to share your story! Hearing from, learning from, and working within the community is a key value at Project Access NOW. We will work with participants to share as much (or as little) as desired about your story and respect your privacy preferences. PANOW always follows Health Insurance Portability and Accountability Act (HIPPA) guidelines in releasing information.
To share your story, contact: Kristin Monahan, kristin.monahan@projectaccessnow.org.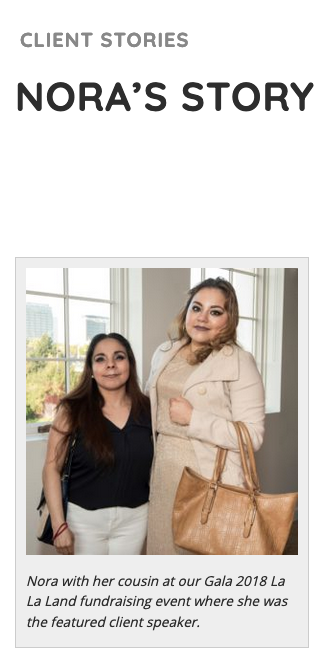 Read more at: www.projectaccessnow.org/noras-story
From,
All of us at Project Access NOW